Incident Location:
670 Bushwick Avenue
Phone Alarm Reporting Fire On The 1st Floor.
BK/B37: We Loaded Up Your Box, Reported Person Trapped In The Basement.
BK/L112: Caller Is In The Basement & Saying They Can't Get Out, Use Caution Also Dogs In The Apartment.
B37: Using
All Hands
... (Rest Of The Message Got Cut Off).
BK/B37: TL111 Is Designated Your FAST Truck & Medical Branch Resources Are Responding.
BK/B37: We Gave You An Extra Engine & Truck (E230/L108) For Window Bars.
B37: Using All Hands For Fire On The 1st Floor Of A 3-Story 100x80 Occupied Church. 2 L/S, 1 L/O. Primary Searches In The Cellar, On The 1st & 2nd Floor Are Complete & Negative. Trucks Are Opening Up, Water On The Fire. (Duration 14 Min)
Exposures:
1: Street
2: Street
3: Unknown
4: Alley
B37: (1) 10-45 Code 4, Minor Burns. (Duration 18 Min)
B37:
PWH
. (Duration 21 Min)
D11: Primary & Secondary Searches Throughout Are Complete & Negative,
Under Control
. (Duration 32 Min)
Rundown:
E217, E218, E222, E237, E230 w/b
L112, TL124, TL111F, L108 w/b
B37, B28
R2
SQ252
D11
RAC2
Relocations:
L106 act. L108
L103 act. L112
---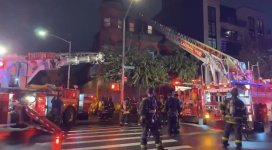 Photo Credit: CitizenApp
Last edited: