Save Historic FDNY Fire Alarms on NYC Streets! - Stop Their Removal & Landmark Them ASAP!​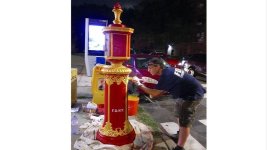 Preservationist & Historian Michael Perlman
started this petition
To: FDNY, NYC Landmarks Preservation Commission, NYC Mayor's Office, NYC Borough Presidents, Dept. of Citywide Administrative Services, City Planning, City Council, NYS Assembly, NYS Senate, NYS Governor
We, the undersigned, are calling for the FDNY & City of New York to immediately stop removing the antique fire alarm box pedestals, mostly from the first half of the 20th century, which are a prime example of NYC history and craftsmanship. They grant significant character to street corners, with their Beaux Arts meets Art Nouveau splendor.
We request all remaining historic examples to be preserved and publicly heard and landmarked via the NYC Landmarks Preservation Commission through a citywide motion, as they are an equally essential aspect of our NYC history, design, & landscape as landmarked buildings.
Additionally, we request the recently removed historic models to be reinstalled. Historic examples can be retrofitted, if necessary.
We are devastated to learn that an aesthetically restored fire alarm pedestal, Box #7802, a 1921 V.F. model in Woodside, was removed & replaced with a plain O'Brien model in fall 2022.
Rumor has it that the historic fire alarm pedestals are being melted down or sold & privatized, but we feel that they are our pride & joy. The government should collaborate with & respect the wishes of the people who understand their communities most, by stopping further destruction of our history.
In some cases, bland rectangular alarms & conduits are being installed. Such was the case in front of the Forest Hills Post Office, where its modern replacement is already falling apart. The alarm on Austin St & 70th Rd is another travesty.
For over 10 years, restoration expert John Colgan, nicknamed "Fire Alarm Box Guy," has been meticulously stripping, priming, painting, & enhancing these historic works of art, often in red with gold to accentuate the ornate details. Months are dedicated toward each alarm's restoration. As a result, an extensive audience of New Yorkers & tourists alike are grateful to encounter these outstanding artifacts on city streets, rediscover ornate craftsmanship, & take pride in FDNY history first-hand, as Colgan's restoration work is underway. An outstanding recent restoration is on 67th Ave & Queens Blvd, which generated widespread media attention, including major TV news segments.