March 28, 1994 - LODD
Firefighter James Young, 31
Engine 24 (Detailed Ladder 5)
New York Fire Department. Brooklyn, New York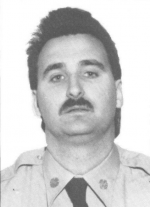 62 Watts Street Fire Manhattan Box 22-308 3/28/1994
On March 28, three firefighters trapped in the stairwell of a brownstone were burned when they were enveloped in fire while attempting to force their way through a heavy steel door to a second floor apartment. Captain John Drennan, Firefighter James Young, and Firefighter Christopher Seidenburg of the New York City Fire Department were conducting a search when the hot air and toxic gases that collected in the stairwell erupted into flames as other fire crews forced entry into the first floor apartment where the fire had originated. The fire exhibited characteristics of both a backdraft and a flashover. Firefighter Young, in the bottom position on the stairs, was burned and died at the scene. Firefighter Seidenberg and Captain Drennan were rescued by other firefighters. They were transported to a burn unit with third and fourth degree burns over 50 percent of their bodies. Seidenburg died the next day. Drennan passed away several weeks later. The fire cause was determined to be a plastic bag left by the residents on top of the stove of the floor apartment.
Captain John J. Drennan of Ladder 5 and Firefighters James F. Young and Christopher J. Siedenburg of Engine 24 died from burn injuries they sustained while operating at 60 Watts Street, a two-alarm fire. Firefighters Young and Siedenburg were detailed to Ladder 5 for the night tour from Engine 24. The three men were in the stairwell leading to the second floor trying to open a door when a fireball shot up the stairs burning all three. Captain Drennan and Firefighter Siedenburg were rescued but, were badly burned. Fireman Young, thirty-one years old, could not be rescued because of the amount of fire in the stairwell. He was a member of the Department for 4 years. Firefighter Siedenburg passed away the next night. He was only 25 and a member of the Dept. for just over two and one half years and was not married. Captain Drennan, forty-nine years old, suffered with burns for forty days before succumbing to his injuries. He joined the Department on November 30, 1968 and was married with four children. (From "The Last Alarm" by Boucher, Urbanowicz &
Melahn, 2006.)

"Will Ye No Come Home?" the bagpipes wailed on a gathering breeze; the Mayor of New York City stood at attention, and the sun shone brilliantly.

James F. Young, 31, had come home to a place he had never left: St. Thomas the Apostle Roman Catholic Church in Woodhaven, Queens, where he was baptized and confirmed, and where he mourned his sister Barbara seven years ago. These were the pleasant streets on which he played and dreamed of becoming a firefighter like his father. A block away is the video store where he worked during his time off from Engine Company 24 in Greenwich Village. Handwritten signs hailed Jimmy Young as Woodhaven's hero.
The leaders of the city gathered to say goodbye and thank you." James Young was honored on the National Fallen Firefighters Memorial in Emmitsburg, Maryland.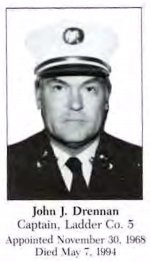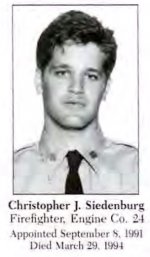 RIP. Never forget.
Last edited: