Hi all
I am a fire collector from France. I design myself fire trucks in order to print them. I then customize the with leds.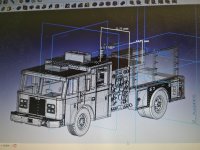 I was looking for some pictures of the inside cab of Ferrara ladders, KME Engine and Seagrave 2020 Engine.
Would somebody be willing to send me some pics from these apparatus ?
Thanks !
Xavier