My guess is that the Church Fire is in Staten Island, due to the partial company number on the style of the church building construction. One thing for sure it is an old church. I have written articles on church fires, so I hope I am right. Capt. Bob Rainey FDNY E-26 retired.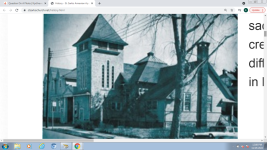 lt's St. Sarkis Armenian Apostolic Church, the company is LADDER 164... >>>>
On the night of May 21, 1985, the bell tower of St. Sarkis Church was hit by lightning and the resulting fire destroyed the church. The parish left without a House of Worship was devastated by the tragedy. Soon afterwards, however, St. Sarkis Parish feverishly began the road to recovery and healing. For the next five years, St. Sarkis Church held services at All Saints Episcopal Church, 214-33 40th Avenue, Bayside.
Check reply #9, member LlONHEART found the answer >>>
in 1962, the founding father of Saint Sarkis Armenian Apostolic Church began a sacred journey in the service of the Lord, their spiritual mission guided by the creative vision of the believed. St....
Last edited: