Courtesy Nassau County Fire Service Academy:
A St. Louis (MO) Firefighter was killed and another injured in the Line of Duty after the roof and top story of a dwelling collapsed during a fire in north St. Louis. Firefighters turned out before noon to Cote Brilliante Avenue and arrived with a working fire.
Firefighters had knocked the fire on the first floor and were searching for potential building occupants on the second when they had indications that they should back out because the fire was getting worse. As they turned to leave, the building's roof and top story collapsed, burying a Firefighter who died and injuring another, The surviving Firefighter was transported to an area hospital and reported conscious and breathing.
The initial call said the building was vacant, but it wasn't clear whether anybody was in there, legally or illegally...the structure still had bars on the windows, according to the department.
Much more to follow. Our condolences to all those affected. Rest In Peace.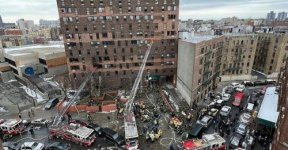 Firefighter Close Calls is the home of the Secret List. The worlds most visited website focused exclusively on firefighter survival. FireFighter Close Calls is part of the FireCompanies.com network of sites.
www.firefighterclosecalls.com